ATLANTIC AND PACIFIC NAMED STORMS
2011
Last Advisory for Each Storm
June 21, 31, July 21 July 31, Aug. 5, 20, 30, Sept. 4, 14, 29, Oct. 4, 14, 19, Nov. 13, (18, 20-23)
(This is still a work in progress ---
but put on hold for now because I must do other things for now.
However, all the links to when each storm expired can be found below to verify that they terminated when predicted --
as well as four more not expressly foretold beforehand, but implied to occur as can be seen in early documents.
(Example: See +3.5 years to TS Olga on the regular Jewish calendar from the same Bible-Code Pictogram,
thereby implying another 3.5 years on the regular Jewish calendar,
just as the rest of the storms were predicted, except using the usual 360 calendar.
These four extra storms occurred on the regular Jewish calendar.)
All information below is in rough and incomplete. Please keep that in mind! But links are accurate.
For the actual predictions made for each storm,
and what each one meant at the time,
please click here!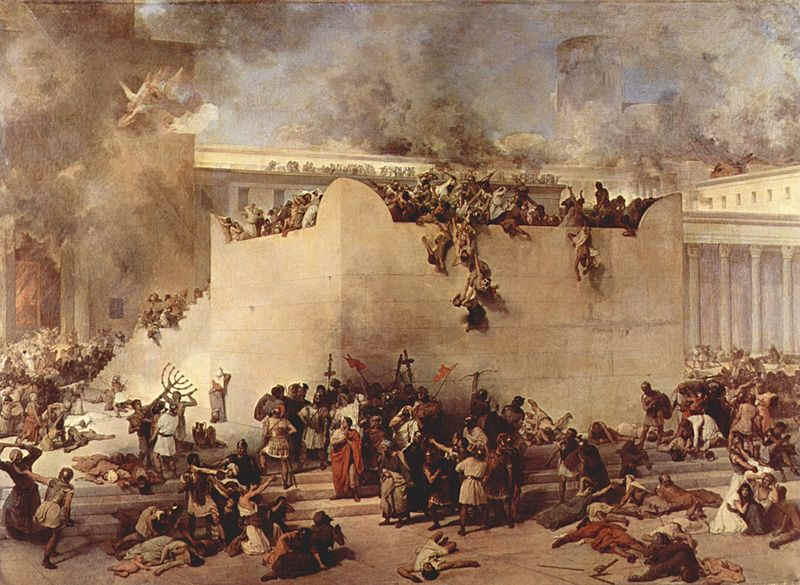 Wikipedia: Tisha B'Av falls in July or August in the western calendar. When the ninth of Av falls on Sabbath (Saturday), the observance is deferred to Sunday the tenth of Av. While the day recalls general tragedies which have befallen the Jewish people over the ages, the day focuses on commemoration of five events: the destruction of the two ancient Temples in Jerusalem, the sin of ten of the twelve scouts sent by Moses, who spoke disparagingly about the Promised Land, the razing of Jerusalem following the siege of Jerusalem in 70 CE, and the failure of the Bar Kokhba revolt against the Roman Empire.
The pattern seven-years later,
except on the Jewish calendar rather than the 360 calendar of bible prophecy:
(With the Jewish calendar, keep in mind that the month of Tammuz has 29 days whereas the month of Av has 30.
(For precedent for using it, click here.)
Note: The afternoons of both Tam 8 and Av 8 are the middle of the week of Tam/Av 5-12,
in accordance with the pattern frequently discussed on the websites the past 20 years.
To be exact, this is both true of late-day Tam/Av 8 or early Tam/Av 9, which therefore overlaps the 7th and "8th day" of the 360 calendar!
Importantly, both Tam. 9 and Av 9 are anniversary dates for the fall of Jerusalem and its temple. 2Kings 25:3; Jer. 39:2, 52:6; Zech 7:1)
July 10 (Tam. 8), plus 40 days equals Aug. 19 (Av 19);
(and with plus one month on Jewish calendar...)
Aug. 8 (Av 8), plus 40 days equals Sept. 17 (Elul 18)
Each day runs from sunset to sunset, beginning the day before.
Hence, with the extra "8th day", the dates are:
July 10/11; Aug. 8/9; Aug. 19/20; Sept. 17/18.
---
Original last-Advisory-for-Each-Storm Predictions
(360 calendar)
June 21, 31, July 21 July 31, Aug. 5, 20, 30, Sept. 4, 14, 29, Oct. 4, 14, 19, Nov. 13, (18, 20-23)
My original experiment was to predict when NHC's last bulletin for each named storm would be and/or their predicted time of dissipation for a storm would be. (The "last bulletin" is also typically when the storm becomes a remnant low.) At the very first I put emphasis on when a storm made landfall, and this, too, proved remarkable, however, because it is common for some storms to make several landfalls it made it practically impossible to include landfall into the definition of 'when a storm would terminate" simply because landfalls, along with when a storm becomes a low and/or dissipates, made for too many possible events. The prediction had to be narrowed down to the basic premise, which was that the numerical pattern specified when a storm would terminate, and this was defined as either when the storm became a low again (which was typically the last bulletin for that storm), or when it dissipated, which normally occurs within another 1-3 days on average. I also put emphasis on the Atlantic storms over the Eastern Pacific storms up to the time of tropical storm Emily. I only paid attention to Eastern Pacific storms that impacted land (North America) at the beginning of the 2011 season. Later, this changed when I realized that God was making no distinction between the two oceans, and that making landfall was not even the correct marker to look for anyway (as just explained).


However, the bulletins at the time of these storms are regarded by NHC as tentative preliminary reports. The final full analysis of the storm, along with minor adjustments in timing of the stages of the storm, was written and released to the public up to several months after the storm. Since I was writing about each storm and anticipating when it would terminate in real time with no thought of a final report some months later, this was all I had to go on at the time. And I believe that this was all that God intended me to know. For as it would turn out, after tropical storm Emily (as predicted by a bible code pictogram, seven years earlier), which miraculous spelled a message about men coming short of the glory of God (as explained at the time of Emily), as it would turn out, once the final reports came out about the named storms after Emily, most of them (nine) fell short of what the numeric pattern predicted. In other words, the pattern was miraculously perfect when compared to the bulletins for when each storm terminated at the time that they terminated, but the final report put out months later paused back slightly the date of when nine of these storms dissipated, but enough for it to "miss the mark," and the code Emily predicted. (In a sense, Emily is the tenth storm that missed the mark, and yet did not, which is a long story to tell here. Instead, see storm Emily for elaboration on how Emily missed the mark, yet did not.)


The fact that all nine fell short, and not exceeded is quite remarkable. (For 2012, about 70% of storms are given a slightly earlier time for their dissipation when the final report comes out as compared to the original bulletin when it predicted when it would dissipate. One would expect that only 70% of the nine storms would have come short. However, even at 70% of the time, for all nine to come short is statistically remarkable, the odds of which are about one in 25. Moreover, for nine out of a possible 14 storms to be adjusted backward so as to miss the mark is astonishing in itself. One might expect a two or three, but not nine, which incorporated the great majority of the predictions for that span (from Don to Kenneth). Moreover, aside from these nine storms that fell short in the final NHC report, no other storm affected the predictions either for or against. Normally, one would expect an almost equal amount of storms to land on a predicted date randomly as much as be removed from landing on a predicted date It should have worked both ways, but instead we see only nine missing the mark, and these by all coming short (rather than being later than the original NHC prediction in their bulletin for when it would dissipate). So what does it mean? It means that whereas all men come short of the glory of God -- Jesus Christ does not, just as NHC final reports for when each of these nine storms would dissipate did come short of their original prediction -- but not God's prediction.


Below I compare that with their final report for when each storm actually did dissipate.

360 calendar: June 21/22, July 1/2 July 21/22 July 31/Aug. 1, Aug. 5/6, 20/21, 30/31, Sept. 4/5, 14/15, 29/30, Oct. 4/5, 14/15, 19/20, Nov. 13/14, (18/19, 20-23)

Jewish calendar: July 10/11; Aug. 8/9; Aug. 19/20; Sept. 17/18

(Note: How most every storm expired on a festive event described in the bible (normally on the 360 calendar) is not yet included with the below chart. I hope to get around to doing this soon. But this in itself is a great miracle!
1
P ADRIAN June 12, 8 am
Gentile Pentecost Sunday
...
2
P ADRIAN June 14, 5 am
tornado-to-hurricane transition (June 14)
360-Pentecost
3
P BEATRIZ June 21, 10 pm

P BEATRIZ June 22, 7 am

June 21/22

4
A ARLENE June 30, 10 pm

A ARLENE July 1, 7 am

July 1/2

5
P CALVIN July 9, 8 pm
July 10/11
6
P CALVIN July 12, 5 pm
7
A BRET July 22, 11 am

July 21/22

8
A CINDY July 23, 2 am

A BRET July 23, 8 am

9
A CINDY July 24, 12:01 am

P DORA July 24, 3 pm

10
P DORA July 26, noon
11
A DON July 30, 4 am
12
A DON July 31, 1 am

July 31/Aug. 1

13
A EMILY Aug. 4, 5 pm

***Aug. 5/6***

14
A EMILY Aug. 5, 2 am

Aug. 5/6

15
P EUGENE Aug. 6, 6 am

Aug. 5/6

16
A EMILY Aug. 7, 5 pm
***Aug. 8/9***
17
A EMILY Aug. 8, 2 am
Aug. 8/9
18
P EUGENE Aug. 10, 3 am
19
A FRANKLIN Aug. 14, 1 am
20
A GERT Aug. 16, 7 pm

A FRANKLIN Aug. 16, 10 pm

A GERT Aug. 17, 4 pm

21
P FERNANDA Aug. 20, 3 am
Aug. 19/20;

Aug. 20/21

22
P GREG Aug. 21, 8 am

P FERNANDA Aug. 21, 3 pm

Aug. 20/21

23
A HARVEY Aug. 22, 10 am
24
A HARVEY Aug. 22, 7 pm
25
P GREG Aug. 24, 4 am
26
A TEN Aug. 27, 1 am
27
A IRENE Aug. 28, 11 pm

A JOSE Aug. 29, noon

28
A JOSE Aug. 29, 9 pm

Aug. 30/31

29
P EIGHT Aug. 31, 9 pm

P EIGHT Sept. 1, 6 am

Aug. 30/31

30
A IRENE Sept. 2, 9 pm

A Unnamed Sept. 2, 9 pm

31
A Unnamed Sept. 3, 9:30 pm

Sept. 4/5

32
A LEE Sept. 4, 10 pm

Sept. 4/5

33
A LEE Sept. 7, 8 pm
34
A KATIA Sept. 10, 1 pm
35
A KATIA Sept. 14, noon

Sept. 14/15

36
A MARIA Sept. 16, 6:30 pm

A MARIA Sept. 17, 5 am

Sept. 17/18
37
A NATE Sept. 11, 10 pm
38
A NATE Sept. 12, 7 pm
39
P HILARY Sept. 30, 2 pm

Sept. 29/30

40
P HILARY Oct. 3, 11 am
41
A OPHELIA Oct. 3, 12:30 pm
42
A OPHELIA Oct. 4, 11 pm

Oct. 4/5

43
A PHILIPPE Oct. 9, 1 am
44
A PHILIPPE Oct. 12, 10 pm

P JOVA Oct. 12, 10 pm

P TWELVE Oct. 12, 10 pm

45
P JOVA Oct. 13, 7 pm

P TWELVE Oct. 13, 7 pm

Oct. 14/15

46
P IRWIN Oct. 16, 9 pm
47
P IRWIN Oct. 19, 6 pm

Oct. 19/20

48
A RINA Oct. 28, 5 pm
49
A RINA Nov. 1, 2 pm
50
A SEAN Nov. 11, 11 pm
51
A SEAN Nov. 12, 9 pm

Nov. 13/14

52
P KENNETH Nov. 25, 6 am

Nov. 18/19***

53
P KENNETH Nov. 27, 3 am

Nov. 18/19***
June 21, 31, July 21 July 31, Aug. 5, 20, 30, Sept. 4, 14, 29, Oct. 4, 14, 19, Nov. 13, (18, 20-23)
=========
Below is a work in progress!
Storm name

Atlantic

Storm name

Pacific

(As predicted by 7-year pattern months ahead of time!)

Prediction when NHC would issue a last storm advisory,
(i.e., typically when storm degenerates to a 'low'),
and/or, time of dissipation

(What actually happened!)

Time and location of last

(What actually happened!)

Time and location of dissipation predicted by NHC

(In a few cases there is no final dissipation predicted by NHC. Thus, 'the last date given by NHC having to do with dissipation' is given instead. An *asterisk*identifies these.)

Actual time and location of final report by NHC by final report issued much later
Actual time and location of dissipation by NHC by final report issued much later
Did final NHC report affect my prediction?
Special (holy)day
Don
Jose

Irene

Katia
Maria
TWELVE

Jova?

TWELVE

Final report for Jova still not in, but right now it hangs in there by just one hour, and abut two-thirds of original predictions by NHC tend to fall short.

Irwin
Rina

Sean

Rina

Note about Sean: the final report for Sean kept the same time for dissipation, which is interesting in that it was hanging in there by just two hours!
Storm name

Atlantic

(As predicted by 7-year pattern months ahead of time!)

Prediction when NHC would issue a last storm advisory,
(i.e., typically when storm degenerates to a 'low'),
and/or, time of dissipation

(What actually happened!)

Time and location of last

(What actually happened!)

Time and location of dissipation predicted by NHC

(In a few cases there is no final dissipation predicted by NHC. Thus, 'the last date given by NHC having to do with dissipation' is given instead. An *asterisk*identifies these.)

Actual time and location of final report by NHC by final report issued much later
Actual time and location of dissipation by NHC by final report issued much later
Did final NHC report affect my prediction?
Special (holy)day
Tropical Storm ARLENE
INIT July 01/0300Z 20.9N 99.1W 25 KT 30 MPH (Local time: June 30, 10 pm)

12H 01/1200Z...DISSIPATED (Local time: July 1, 7 am)

-5
INIT July 22/1500Z 37.7N 64.2W 30 KT 35 MPH...POST-TROP/REMNT LOW (Local time: July 22, 11 am)

12H 23/0000Z 39.0N 60.9W 30 KT 35 MPH...POST-TROP/REMNT LOW

24H 23/1200Z...DISSIPATED (Local time: July 23, 8 am)

-4
Tropical Storm CINDY
INIT July 23/0300Z 49.2N 31.2W 35 KT 40 MPH...POST-TROP (Local time: July 23, 2 am)

12H 23/1200Z 51.7N 25.7W 30 KT 35 MPH...POST-TROP/REMNT LOW

24H 24/0000Z...DISSIPATED (Local time: July 24, 12:01 am)

-1

0

Tropical Storm DON
INIT July 30/0900Z 27.9N 98.8W 25 KT 30 MPH...POST-TROP/REMNT LOW (Local time: July 30, 4 am)

12H 30/1800Z 28.5N 101.0W 20 KT 25 MPH...POST-TROP/REMNT LOW

24H 31/0600Z...DISSIPATED INLAND (Local time: July 31, 1 am)

-5
Tropical Storm EMILY
INIT Aug. 04/2100Z 19.0N 75.0W 30 KT 35 MPH (Local time: Aug. 4, 5 pm)

12H 05/0600Z...DISSIPATED (Local time: Aug. 5, 2 am)
============
INIT Aug. 07/2100Z 31.1N 74.1W 25 KT 30 MPH (Local time: Aug. 7, 5 pm)

12H 08/0600Z...DISSIPATED (Local time: Aug. 8, 2 am)

-4

==

-4

Tropical Storm FRANKLIN
INIT Aug. 14/0300Z 40.5N 51.8W 35 KT 40 MPH...POST-TROP/EXTRATROP (Local time: Aug. 14, 1 am)

12H 14/1200Z 40.8N 47.2W 35 KT 40 MPH...POST-TROP/EXTRATROP

24H 15/0000Z 40.5N 42.5W 30 KT 35 MPH...POST-TROP/EXTRATROP

36H 15/1200Z 39.5N 39.8W 30 KT 35 MPH...POST-TROP/EXTRATROP

48H 16/0000Z 38.0N 38.5W 25 KT 30 MPH...POST-TROP/EXTRATROP

72H 17/0000Z...DISSIPATED (Local time: Aug. 16, 10 pm)

-2

-2

Tropical Storm GERT
INIT Aug. 16/2100Z 39.5N 54.7W 35 KT 40 MPH...POST-TROPICAL (Local time: Aug. 16, 7 pm)

12H 17/0600Z 41.9N 50.8W 35 KT 40 MPH...POST-TROPICAL

24H 17/1800Z...DISSIPATED (Local time: Aug. 17, 4 pm)

-2
Tropical Storm HARVEY
INIT Aug. 22/1500Z 18.1N 97.3W 25 KT 30 MPH (Local time: Aug. 22, 10 am)

12H 23/0000Z 18.1N 98.2W 25 KT 30 MPH...DISSIPATED (Local time: Aug. 22, 7 pm)

24H 23/1200Z...DISSIPATED (Local time: Aug. 23, 7 am)

-5

-5

INIT Aug. 29/0300Z 45.3N 71.3W 45 KT 50 MPH...POST-TROP/EXTRATROP (Local time: Aug. 28, 11 pm)

12H 29/1200Z 48.4N 68.7W 40 KT 45 MPH...POST-TROP/EXTRATROP

24H 30/0000Z 52.7N 63.4W 40 KT 45 MPH...POST-TROP/EXTRATROP

36H 30/1200Z 56.0N 57.1W 40 KT 45 MPH...POST-TROP/EXTRATROP

48H 31/0000Z 57.8N 49.3W 40 KT 45 MPH...POST-TROP/EXTRATROP

72H 01/0000Z 60.0N 34.5W 40 KT 45 MPH...POST-TROP/EXTRATROP

96H 02/0000Z 62.5N 26.5W 35 KT 40 MPH...POST-TROP/EXTRATROP

120H Sept. 03/0000Z 64.0N 27.5W 35 KT 40 MPH...POST-TROP/EXTRATROP (Local time: Sept. 2, 9 pm)

-4

-3

Tropical Depression TEN
INIT Aug. 27/0300Z 16.0N 34.0W 25 KT 30 MPH (Local time: Aug. 27, 1 am)
-2
Tropical Storm JOSE
INIT Aug. 29/1500Z 39.5N 63.1W 25 KT 30 MPH (Local time: Aug. 29, noon)

12H 30/0000Z...DISSIPATED (Local time: Aug. 29, 9 pm)

-3
Hurricane KATIA
INIT Sept. 10/1500Z 44.7N 47.7W 70 KT 80 MPH...POST-TROP/EXTRATROP (Local time: Sept. 10, 1 pm)

12H 11/0000Z 47.5N 38.5W 70 KT 80 MPH...POST-TROP/EXTRATROP

24H 11/1200Z 51.5N 27.5W 65 KT 75 MPH...POST-TROP/EXTRATROP

36H 12/0000Z 54.5N 19.0W 65 KT 75 MPH...POST-TROP/EXTRATROP

48H 12/1200Z 57.5N 11.5W 60 KT 70 MPH...POST-TROP/EXTRATROP

72H 13/1200Z 61.0N 1.0W 50 KT 60 MPH...POST-TROP/EXTRATROP

96H 14/1200Z...EAST OF ZERO DEGREES LONGITUDE (Local time: Sept. 14, noon)

"NO 96-HOUR FORECAST POINT HAS BEEN PROVIDED DUE TO SOFTWARE ISSUES WHEN SYSTEMS MOVE EAST OF ZERO DEGREES LONGITUDE."

-2

0

Unnamed Tropical Storm. Final report – PDF
Sept. 03 / 0000 40.0 60.7 1004 30 extratropical(Local time: Sept. 2, 9 pm)

Sept. 04 / 0000 - - - - dissipated (Local time: Sept. 3, 9:30 pm)

-3

-2.5

Tropical Storm LEE
INIT Sept. 05/0300Z 31.0N 91.4W 30 KT 35 MPH (Local time: Sept. 4, 10 pm)

12H 05/1200Z 31.3N 90.5W 35 KT 40 MPH...POST-TROPICAL

24H 06/0000Z 32.3N 88.8W 30 KT 35 MPH...POST-TROP/EXTRATROP

36H 06/1200Z 33.6N 87.5W 30 KT 35 MPH...POST-TROP/EXTRATROP

48H 07/0000Z 34.8N 86.9W 25 KT 30 MPH...POST-TROP/EXTRATROP

72H 08/0000Z...DISSIPATED (Local time: Sept. 7, 8 pm)

-5

-4

Hurricane MARIA
INIT Sept. 16/2100Z 48.5N 51.5W 60 KT 70 MPH...POST-TROPICAL (Local time: Sept. 16, 6:30 pm)

12H 17/0600Z...ABSORBED BY A COLD FRONT (Local time: Sept. 17, 5 am)

-2.5

-1

Tropical Storm NATE
INIT Sept. 12/0300Z 20.5N 98.4W 25 KT 30 MPH (Local time: Sept. 11, 10 pm)

12H 12/1200Z 20.5N 99.5W 20 KT 25 MPH...DISSIPATED

24H 13/0000Z...DISSIPATED (Local time: Sept. 12, 7 pm)

-5
INIT Sept. 03/1500Z 48.1N 52.0W 50 KT 60 MPH...POST-TROP/EXTRATROP (Local time: Oct. 3, 12:30 pm)

12H 04/0000Z 50.0N 43.5W 45 KT 50 MPH...POST-TROP/EXTRATROP

24H 04/1200Z 52.0N 32.0W 35 KT 40 MPH...POST-TROP/EXTRATROP

36H 05/0000Z...ABSORBED BY FRONT (Local time: Oct. 4, 11 pm)

-2.5

-1

Hurricane PHILIPPE
INIT Sept. 09/0300Z 38.4N 43.9W 45 KT 50 MPH...POST-TROP/EXTRATROP (Local time: Oct. 9, 1 am)

12H 09/1200Z 40.2N 42.3W 45 KT 50 MPH...POST-TROP/EXTRATROP

24H 10/0000Z 43.0N 40.0W 45 KT 50 MPH...POST-TROP/EXTRATROP

36H 10/1200Z 46.5N 36.5W 45 KT 50 MPH...POST-TROP/EXTRATROP

48H 11/0000Z 51.0N 32.5W 40 KT 45 MPH...POST-TROP/EXTRATROP

72H 12/0000Z 59.0N 25.0W 35 KT 40 MPH...POST-TROP/EXTRATROP

96H 13/0000Z...DISSIPATED (Local time: Oct. 12, 10 pm)

-2

-2

Hurricane RINA
INIT Oct. 28/2100Z 21.9N 86.1W 25 KT 30 MPH...POST-TROP/REMNT LOW (Local time: Oct. 28, 5 pm)

12H 29/0600Z 22.1N 85.5W 25 KT 30 MPH...POST-TROP/REMNT LOW

24H 29/1800Z 21.7N 85.0W 25 KT 30 MPH...POST-TROP/REMNT LOW

36H 30/0600Z 21.0N 85.0W 20 KT 25 MPH...POST-TROP/REMNT LOW

48H 30/1800Z 20.5N 85.5W 20 KT 25 MPH...POST-TROP/REMNT LOW

72H 31/1800Z 19.0N 86.5W 20 KT 25 MPH...POST-TROP/REMNT LOW

96H 01/1800Z...DISSIPATED (Local time: Nov. 1, 2 pm)

-4

-4

Tropical Storm SEAN
INIT Nov. 12/0300Z 36.7N 57.7W 35 KT 40 MPH...POST-TROP/EXTRATROP (Local time: Nov. 11, 11 pm)

12H 12/1200Z 39.0N 52.5W 30 KT 35 MPH...POST-TROP/EXTRATROP

24H 13/0000Z...DISSIPATED (Local time: Nov. 12, 9 pm)

-4

-3
Below are other related documents:

---

Also see other notes to do with Hurricanes and Storms between 2004-2007

For more on the last seven storms of 2005
and the probabilities of the bible code predicting them click here

The 2007 Season (just for the record)

Predictions and subsequent results for tornadoes of early 2008.

World Trade Center Bible Code
was a Sign of the 2008 Collapse of World Trade

Bible Code Predictions
(My rant against false predictions that people make
that cast doubt on those truly led by God!)

Also see, Predictions about 2012

=============

IMPORTANT ARTICLE IN THIS SERIES:
"How the Gods of Babylon
are Weighed in the Balances."

(And note once again the precise timing of cat. 4 hurricane Flossie, the first hurricane
of either the Atlantic or Pacific Ocean of this season,
--- completely unheard of to myself when I put out this code Aug. 10, 2007 ---
the same day she 'blossomed'.
And so, the signs for the coming storm repeat themselves again!)

Click here for why Hurricane Flossie is a sign of the coming storm,

and Britain's Six-Billion Dollar Flood, and Hurricane DEAN

The KJV Bible Code continues the Balance Bible Code (Hurricane Bible Code) series,
except now found in the English Bible!

(Update: see, English (KJV) Bible Code Predicts August Fires in Greece, 2007)

Related Articles