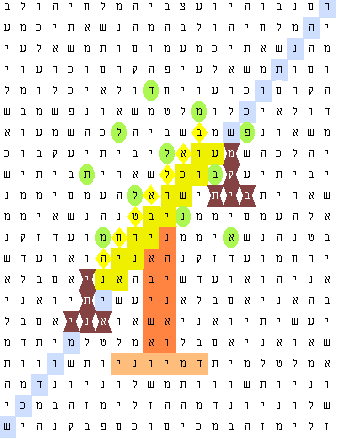 The tsunami and bible numbers:
Why the morning of Dec. 26, 2004?
The tsunami occurred on Dec. 26, 2004, (which date symbolized as 1877 BC on the day/year grid). This was the year that Joseph's brothers (a type of the Savior, Jesus), bowed down before him in fulfillment of his dreams; "And Joseph remembered his dreams," Genesis 42:9. The next year (and hence, "day") was when they entered Egypt 430 years, (1876 to 1446 BC). The seven-year famine of Joseph, therefore, symbolically spans the day/years of Dec. 25, 2004, to Jan. 1st, along the day/year grid. (Also, Dec. 25, 2004, to Jan. 1st is the traditional anniversary of the eight days [inclusive] from Jesus birth to His circumcision, [see Revelation 12]. I believe that the picture-bible-codes are (figuratively speaking) the "dreams" of Jesus, the Son of God. Like Joseph, the dreams of Yeshua [Jesus] will all come to pass down to the last Vav and Yod!)
The Tsunami is a precursor to the calamities that will soon befall mankind that will eventually force every stubborn knee to bow before the King of kings and the Lord of lords---just like Joseph. (The seven-year famine of Joseph is also the theme of the bible numbers website put on the Net about 7 years ago. (Also see Iran quake, which happened one year earlier almost to the very hour.) Note the theme of "bowing" in the Balance/Lamp Bible Code.
The river of judgment reads: "Bow low; Be quiet before me! I AM Jesus! Bow low; then you will shine like a river!" ("From everlasting, my name is the Lord" interweaves with "I am Jesus" and, "The blood concerning my salvation," so as to denote depth to the river at middle.)

These were the very first words discovered in this bible code. We have a choice. Bow down before a loving Savior, or bow down before an overpowering Judge. It's your decision. Both Jew and Gentile will bow.